A Greek website named Aplotaria got in touch to ask if they could use a few of my photos in an article they wrote about the bats of Chios. They were kind enough to allow me to translate their article into English and post it here.
———
Bats In Chios
12 species of bats have been 'brought to light' during recent research by a Doctor of Environmental Biology, Panagiotis Georgiakakis, which was conducted for the Ministry of Environment.
Mr Georgiakakis and 14 British researchers – with the help of speleologists and other naturalists from Chios – visited caves, mines, old buildings, and places of fresh water around the island in search of bats. The information collected will be a means of developing a strategy for the proper management of their habitats and their survival. Valuable information on populations, species, and condition of habitats protected by Greek and European legislation of these unique flying mammals is expected to be reflected in the report to the Ministry of Environment within the project "Monitoring and Evaluation of the Conservation Status mammal species of Community interest in Greece".
The investigation has shown that the island has at least 12 different species of bats, significantly increasing their number in relation to the three species previously acknowledged. However, compared to the neighbouring islands, Chios does not seem to be a particularly "cosy" place for bats. Fewer bat species were identified in Ikaria, but more on Samos (15), Rhodes (16), and Lesbos, which has not been adequately studied (14).
Of the 12 species identified, researchers were able to capture and observe 11 species, while another species identified by sound recordings normally flies very high. Six bat species found on the island found shelter in caves and mines, with the rest in crevices in rocks and buildings.
Each and every bat species is strictly protected in accordance with the Directive of the EU Habitats (Habitat Directive and 92/43/EU), which is international legislation protecting biodiversity, and the Berne Convention which has been signed by our country. It should be noted that three species of bats identified in Chios are "near threatened" according to the Greek 'Red Data Book of Endangered Animals of Greece', so we have one more reason to preserve them.
Species of bats found on the island are: Hypsugo savii, Miniopterus schreibersii, Myotis aurascens, Myotis blythii, Myotis emarginatus, Pipistrellus kuhlii, Pipistrellus pipistrellus, Plecotus kolombatovici, Rhinolophus blasii, Rhinolophus ferrumequinum, Rhinolophus hipposideros, while the species identified but not captured is Tadarida teniotis.
"To protect the habitats of bats"
The most important bat shelter is the Keramou mines within the surroundings of the network NATURA 2000. There, the inactive galleries nestle more than 150 bats of 7 different species, so each project exploitation of the region and promotion of old mines should be carefully designed be friendly to bats (no fencing, lighting, ingress in the galleries) is to be lawful. The cavern Lithi, where there lives a colony of 30 bats, is another important habitat that deserves to be protected from any anthropogenic action that will degrade them.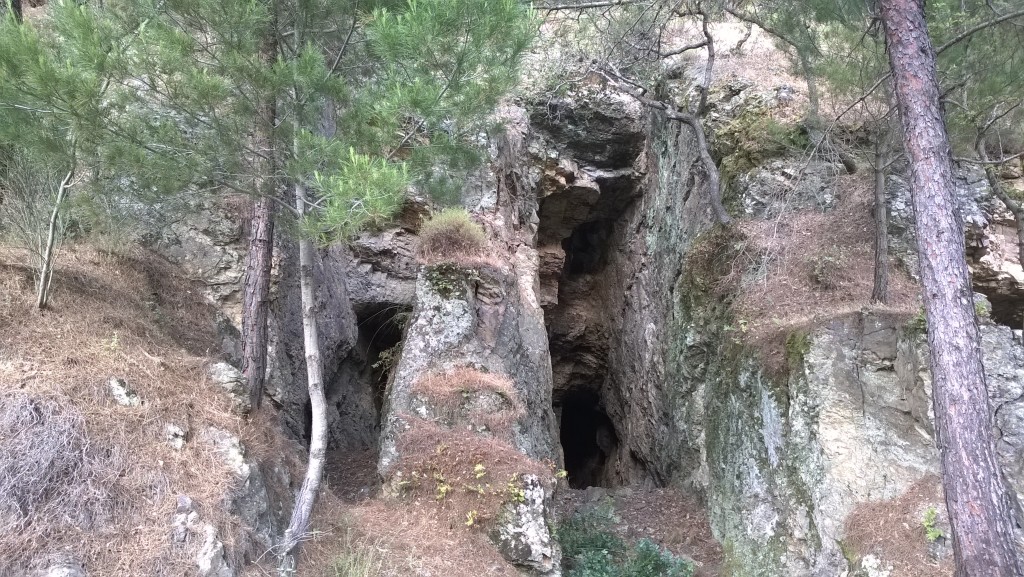 As expected, several species of bats found in areas of North Chios favour freshwater habitats where the insects that gather there are better "titbits" for bats. Five species of bat were identified in Giosonas, four in St. Markella, and four in Malangioti, while the cave of St. Dairy has shown a decrease in the number of bats – likely due to tourists during the summer period – with a corresponding increase in the autumn, a good sign of their return. Scientists draw attention to the need to preserve habitat characteristics of these regions (quantity and quality of water, humidity, vegetation, etc.) as on Chios, areas that retain water throughout the year are minimal.
Photos: Panagiotis Georgiakakis and Rachel Bates.